Welcome to fishsickness.com, I'm glad you're here. My name is Kristopher Bouldin, I am based out of Cotter, Arkansas. Let me introduce you to my guide service:
Locations:
North Fork River: Brown, Cutthroat, Brook, and Rainbow Trout
White River: Brown, Cutthroat, Brook, and Rainbow Trout
Norfork Lake: Largemouth, Smallmouth, Stripers, Crappie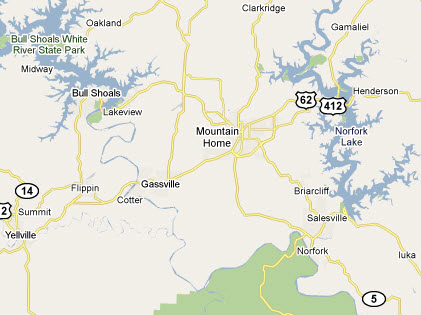 Rates:
The rate for one day of guided flyfishing is $400.
This includes a meal, drinks, and a full day of flyfishing with all flies and equipment provided, except waders (although I do have some extras if they fit). The rivers have been fishing very well in 2012.
Contact:
Contact me at: tailwatersguide@gmail.com or call (870)-656-3700
About:
I have been fishing for around 34 years . Fished bass tournaments for 14 years. Guided at Pickwick and Mississippi river on and off for 3 years (1999-2002) and have been a builder since 1996. My life has without a doubt been very interesting. I have at one time or another fished for every freshwater species of fish in North America using every type of method you could imagine from flyfishing for carp to spider rigs for crappie even my bare hands for catfish.
The only thing that I have learned for sure on my journey is that I am programmed to fish and hunt and it is the only thing I have found in this crazy life that I am truly passionate about. That is why I figure better late than never and I am going to share this passion and knowledge with others through guiding. This will offer you, the client, an opportunity to learn quickly what I have studied for many years through trial and error and me the opportunity to earn a living doing what I truly love. Thanks for visiting Fishsickness the home of Tailwaters Guide Service and I'll see you on the water!